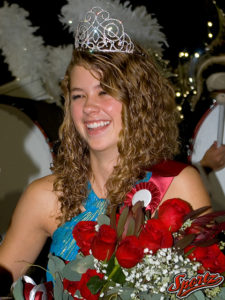 MIDLAND, TX – Even as Lee had their struggles with mental discipline, the Lee Rebels still managed to knock off the Amarillo Tascosa Rebels 27-3 on homecoming night in Grande Communications Stadium. It was a football Friday filled with plenty of mums, garters, and Rebels. Dustin Beal was recognized as the Homecoming King, and Eliza Marks was crowned as the 2011 Homecoming Queen during the halftime festivities.
Special teams and defense ruled the night as both teams struggled to gather more than 200 yards of total offense each. Lee and Tascosa managed to turn the ball over four times between the two teams just in the first half of play. In the same half, there were 10 penalties that accounted for the ball being moved 91 yards. Both Rebel teams failed to cash in on any points in the first quarter; however, Lee did put together an impressive drive in the quarter. Unfortunately, it resulted in a missed field goal.
The second quarter allowed Tascosa to kick a 26-yard field goal for the first points of the game. Lee was able to answer that right before the half ended. Talor Nunez completed his only pass of the game on a 30-yard touchdown reception by Cole Edwards. Lee took the 7-3 halftime lead to the locker room.
Lee's defense was first to score points in the second half. On Tascosa's first drive of the third quarter, Skyler Estrella blocked a punt deep in Amarillo's end of the field. Luke Stice hauled the loose ball in and rambled 30 yards for the touchdown. Darian Long played spoiler in any remaining hopes of Tascosa getting back into the game. Early in the fourth quarter, Long returned a punt 54 yards to increase Lee's lead to 20-7. Five minutes later, he made an appearance in the offensive backfield to score from four yards out.
Travis Williams finished with a 100 yards rushing on 21 carries. Nunez had 41 yards on 9 carries. Lee's defense was responsible for three interceptions – Chase Lindsey, Evan Chamblee, and Long each accounted for one.
The Rebels will now have a week off to regain focus and discipline before starting the district run. Lee's first 3-5A opponent is Abilene Cooper, where the Cougars will host the Rebels in Shotwell Stadium on October 7.
1
2
3
4
F
A. Tascosa
00
03
00
00
3
Midland Lee
00
07
07
13
27
SCORING SUMMARY
Second Quarter
TAS — Mason Conway 26 field goal, 4:40
LEE — Cole Edwards 30 pass from Talor Nunez (Miles Vincent kick), 0:58
 Third Quarter
LEE — Luke Stice 30 blocked punt return (Vincent kick), 9:28
Fourth Quarter
LEE — Darian Long 54 punt return (kick failed), 9:40
LEE — Darian Long 4 run (Dustin Beal kick), 4:49
GAME STATISTICS  
TAS
LEE
First Downs
12
10
Total Yards
225
203
Rushing
096
173
Passing
129
030
C-A-I
8-28-3
1-7-0
Punting
3-29.7
4-28.7
Fumbles
0-0
2-2
Penalties
7-56
6-60