Homecoming… the tradition of welcoming back former residents, alumni, and players. This week, Midland Lee will be celebrating Homecoming with "Rebels Making Headlines" as the theme. The festivities will kick-off with the parade on Thursday at 6:00 p.m., and conclude Saturday afternoon with the Legacy Wall of Honor Induction ceremony. It will also include the Lee Rebels hosting the Amarillo Tascosa Rebels on Friday night in Grande Communications Stadium. Kickoff is slated for 7:30 p.m.
Homecoming is a special time for the Rebel student body, faculty, and alumni. "Who you asking to the dance?", "What kind of Homcoming mum do you think I should get for her?", and "Are you wearing a suit or tux?" are some of the many questions that will be asked as this weekend draws near. Many of the school organizations started working on their float decorations over the weekend in preparation for Thursday's parade, which officially kicks off the homecoming celebrations. Most will use this week to complete that task. The parade is anticipated to draw quite a bit of attention and will include: the Rebel band, the football team, cheerleaders, Dixie Dolls, other Lee athletic teams, members of the JROTC, and many others. The parade traditionally reaches far beyond the high school, as the last few years the appearance of a MFD fire truck, junior high band, and a local merchant float have been commonplace. The festivities would not be complete without taking a special look at the Homecoming Court.
The nominees for the 2011 Homecoming King are: Dustin Beal, Sagar Patel, Lance Vanley, Travis Williams, and Mason Wuthrich. Two of those names you may recognize from stories posted on LeeRebs.com as members of the varsity football team – kicker Dustin Beal and running back Travis Williams.
The nominees for your Homecoming Queen are: Kortni Edwards, Landry Johnson, Jaycie Lynch, Eliza Marks, and Tina Newton. We requested information on each of these young ladies, but have not received a response at this time. Good luck to each one of you! I'm sure your parents are very proud of you all.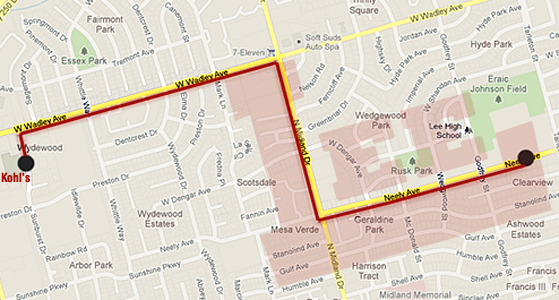 Start at Sunburst & Wadley traveling East on Wadley Ave.
Turn and continue heading South down Midland Drive.
Turn and head East down Neely Ave. to the Lee campus!
HOMECOMING 2011 ITINERARY

Thursday, September 22:
6:00 p.m. – Homecoming Parade
7:00 p.m. – RebelPalooza at Lee campus
Friday, September 23:
1:30 p.m. – Alumni & Former Faculty Reception in Library
3:25 p.m. – Pep-Rally
5:30 p.m. – Tailgate with Booster Club (sponsored by Casedhole Solutions)
7:30 p.m. – Homecoming Game vs Amarillo Tascosa (Grande Stadium)
Saturday, September 24:
11:00 a.m. – Legacy Wall of Honor Induction Ceremony & Brunch in Library